Exclusive
Kobe Bryant To Be Deposed In Shaquille O'Neal Former Mistress' Lawsuit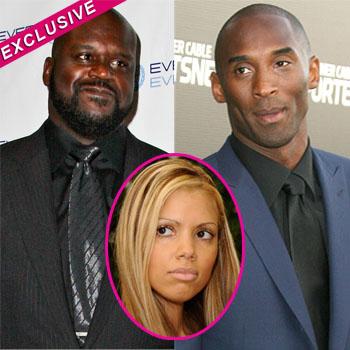 Article continues below advertisement
According to NBC Sports, during the criminal investigation Bryant allegedly told cops that Shaq "had paid up to $1 million in hush money to various women." O'Neal denied the charge at the time and the rape charge against Brant was subsequently dropped after he reached an undisclosed financial settlement with the accuser.
"There are plans to depose Kobe Bryant because he has information about advice Shaq allegedly gave him about paying off the woman who was accusing him of rape," a source close to the situation tells RadarOnline.com. "This goes to the heart of Vanessa's claims against Shaq and the jury will definitely want to hear what Kobe has to say. There is still no love lost between Shaq and Kobe and the two men can barely stand to be in the same room together even though they have publicly said they have made up. Kobe doesn't want to be dragged into Shaq's mess."
In court documents filed in Orange County, Lopez claimed: "Shaquille O'Neal arranged for his sister, Ayesha Harrison, to call and threaten me. She told me to watch my back because they know where I live and said they would disseminate lies about me on the Internet...Ayesha Harrison called and left two threatening voicemails in September 2009."
Lopez asserts that: "I live every day fearing for my safety. I now have extreme anxiety because of Shaquille O'Neal's campaign to intimidate and silence me. Since the incidents began I have been plagued by anxiety and depression for which I have taken medication. I lost valuable time with my dying mother because I was too frightened to leave my home and visit her in her final days."
MORE ON:
Celebrity Justice
Article continues below advertisement
In the suit, Lopez claims she was the victim of a number of scary incidents -- most notably a threatening text that Shaq allegedly sent to a friend of his saying, "dis is da numba shut dat b*tch up!"
Lopez claims the friend responded with a text saying, "consider it done famo."
The friend then allegedly jumped on a plane to Orlando, Florida, and texted Lopez before calling her on her cell, sounding "menacing and sinister," according to the court documents.