'Pregnant Man' Thomas Beatie Opens Up About His Struggle To Have More Children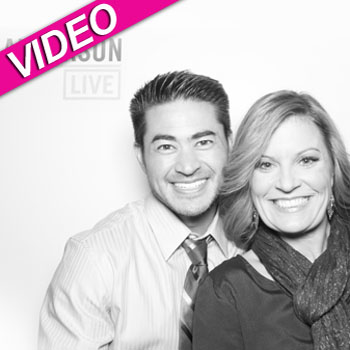 Article continues below advertisement
"You've had bottom surgery so you could have a baby again but it would be by C-section obviously," Anderson said in the interview with the new couple.
"Yes, the surgeon highly advises against it, yeah, I might bust a stitch or something," explained Thomas, who after being transgender for 15 years just had a full sex-change operation in February but kept his womb.
Amber, 42, agreed that she definitely wants a child of her own, though, "Not today, in the future."
However, the couple is realistic that it might not be as easy as it was in the past for Beatie, who is prepared for the complicated process.
"We would have to check out our fertility options. Right now we have some of the same sperm used with the three children that I've had," he explained. "We have two vials left at California Bank and there's a clinic in San Francisco that we might seek advice from."
Article continues below advertisement
Later in the controversial chat, Thomas revealed the emotional trauma behind his recent split from wife, Nancy.
"It's been a process. We physically separated back in March when I filed for separation and there was a protective order but basically I didn't wear my wedding ring for a year prior to that," he revealed, adding that he has sole custody of the kids right now but they share parenting time.
The divorce drama has gotten even more complicated due to an Arizona judge disputing the fact that Thomas is legally a man, and while it would make it easier for him to walk away – the father-of-three refuses to simply "nullify the marriage like it didn't happen."
"But it did happen and I was married to Nancy for almost 10 years, we paid taxes, we bought and sold homes, we started a family together and I want that to be validated," he argued. "It's being challenged right now so if I back down from it we all lose."
Anderson Live is a nationally syndicated talk show, visit AndersonCooper.com for local listings. The full interview airs on Thursday.
radar_embed service=5min.com src=" http://pshared.5min.com/Scripts/PlayerSeed.js?sid=1126&width=486&height=412&playList=517708547&sequential=1&shuffle=0"