Exclusive
EXCLUSIVE: 'Pregnant Man' Thomas Beatie Gives Birth To Third Child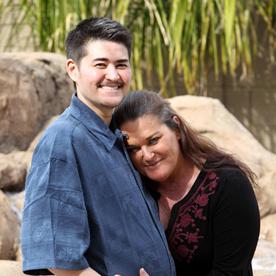 It's a bouncing baby boy for famous 'pregnant man' Thomas Beatie, RadarOnline.com has learned exclusively.
Transgender male Beatie shocked the world in June 2008 when he became the first man to have a baby—and two years later he's already on baby number three!
VIDEO: Check Out Thomas Beatie's Home Video Of The Impending Birth
"He's got light brown hair and blue eyes. He's very handsome and adorable, and he's big and healthy," revealed a source close to the family, who added that Beatie was only in the hospital on Sunday, July 25 for 24 hours before he was discharged.
Article continues below advertisement
EXCLUSIVE: 'Pregnant Man' Due To Give Birth Any Day
"With their first child, Susan, Thomas was in the hospital for four days, and the next time with Austin he was there for two days," our source said of Beatie's time at St. Charles Medical Center in Bend, OR, where he gave birth to all three of his children naturally. "This time, their son was completely healthy so there was no reason to stay longer."
But, believe it or not, Thomas almost didn't make it to the hospital. Already passed his due date, Beatie was having contractions every five minutes on the day he went into labor.
"It was a very quick labor. He nearly didn't make it to the hospital and almost had him in the car!" our source revealed.
Beatie and his wife Nancy already have two kids, daughter Susan, 2, and son Austin, 1, who are adjusting very well to their new baby brother and are enjoying quality family time together.
"They're staying private right now and spending a lot of time at home getting to know him," the source said. "It's happy bliss. They're soaking up all the love."