Exclusive
Pregnant Man Secretly Dating The Director Of His Kids Daycare Center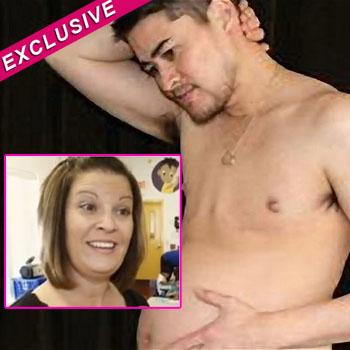 By Amber Goodhand - Radar News Editor
Pregnant Man Thomas Beatie just announced last week that he and his wife are splitting up, and RadarOnline.com has exclusively learned he began dating another woman before they were even separated!
According to a source close to the situation, Thomas began a relationship with Amber Nicholas, 42, the director at a Tutor Time daycare center in Phoenix, Arizona where his children formerly attended.
Article continues below advertisement
Thomas, 38, became the first known legal man to give birth in 2008 to daughter Susan, and had two more children since then with wife Nancy Beatie — who he admits hasn't seen his full female-to-male transition yet.
"Thomas and Amber began their relationship before he and Nancy had even split up," the insider revealed.
"Because of the conflict of interest, Thomas now takes his children to a different Tutor Time location but he stops by Amber's work all the time so the two can have lunch together."
The source also says that when Thomas and Nancy were initially fighting, he moved out and temporarily moved in with Amber — and Nancy didn't approve.
"Thomas and Amber are trying to keep this really quiet, but Nancy is flipping out about it," the source said.
"One time Nancy showed up to the daycare center unannounced so Thomas snuck the kids out the back door and into Amber's car. Nancy freaked out and went around the back to block the car in!"
Article continues below advertisement
RadarOnline.com obtained court documents pertaining to an Order of Protection that Thomas filed against Nancy in March, claiming physical abuse and an incident when she hit him in the crotch.
EXCLUSIVE: 'Pregnant Man' Due To Give Birth Any Day
"Amber knows she's getting herself into a dramatic situation, but she just doesn't care. She really likes Thomas," the source said.
"Once Thomas finalizes the divorce with Nancy, I wouldn't be surprised if he and Amber go public."