Famed Chef Goes On Crazy Facebook Rant At Unsatisfied Diner: Give Up The Pie Fat Face!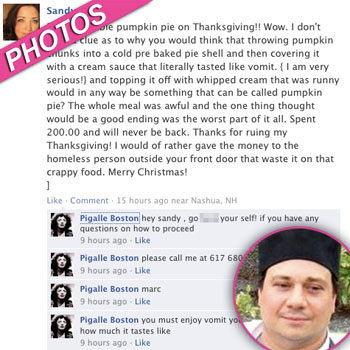 Marc Orfaly, chef and owner of Boston's acclaimed French restaurant Pigalle, ranted back at an unsatisfied customer after the diner posted a scathing review of her Thanksgiving dinner from the establishment on Facebook.
The customer, Sandy Tremblay, posted to Pigalle's Facebook after the $200 meal that she had a "really horrible pumpkin pie on Thanksgiving!" that "literally tasted like vomit," adding for good measure that "the whole meal was awful."
Article continues below advertisement
Suffice it to say, the chef was infuriated by the affront to his craft.
"Hey sandy, go f*** yourself!" he responded in the same thread. "You must enjoy vomit you b**** if you know how much it tastes like … secondly, if you had any clue about eating out, or balls, you would of informed your server you were unhappy with something, while at the restaurant, not on Facebook ... again f*** you, don't come back."
He finished the string writing, "Please come back for your two hundred dollars, sorry if you can't afford it, and I don't want your money."
Still seething, Orfaly wrote a SECOND post further blowing off steam about Tremblay and her review, writing, "It is hard to believe that in this day and age there are still uneducated, unintelligent, unpolished human beings out there that still go out to eat, but there are, and this woman proves my point … a good new years resolution judging from your fat face would be to give up the pie sweet pea."
Article continues below advertisement
The online meltdown, which many other readers responded to supporting both sides, gained steam online and on TV news; by Monday, Orfaly said sorry to the unsatisfied diner over his explosion, admitting he "overreacted" in his response.
"While we feel that if a guest is dissatisfied, they should bring it to our attention immediately, there is no excuse for name-calling and foul language. I was wrong," he wrote. "My hope is that each person who walks through our door has a wonderful dinner & service, but I also hope each person feels comfortable enough to let us know if they are not having this experience.
"Although, my comments did not reflect this, I truly respect and acknowledge the importance of feedback, good and bad."
Tremblay, who later friended the chef on the website, wrote that she "would strongly recommend checking out Pigalles."
RELATED STORIES:
'Turkey, Kids And Kisses! Tori Spelling Shares Thanksgiving Family Vacation Photos
Don't Cry, Ma! Jennifer Garner's Mom Sobs Saying Goodbye After Holiday Visit