That's Amore! Mark Zuckerberg & Wife Ride Boat As Facebook Stock Continues To Sink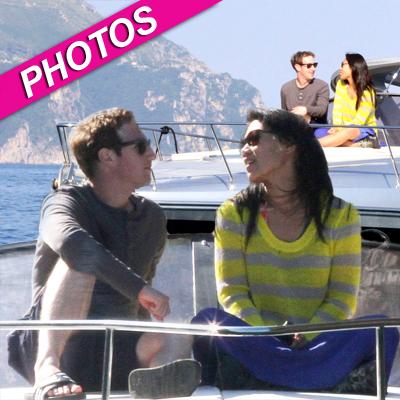 Facebook CEO Mark Zuckerberg and his bride Priscilla Chan enjoyed a relaxing boat ride on their extended honeymoon in Italy Tuesday, as stock in his social networking site continue to sink.
The Harvard-educated billionaire is enjoying the life of riley thousands of miles away from Wall Street, where the value of his company's stock -- down to a record-low of $28.65 at one point Tuesday (it opened May 18 at $38 per share) -- won't be getting him new friend requests anytime soon.
Article continues below advertisement
Still, all might not be gloom and doom for the $79 billion social networking juggernaut, according to Wedbush analyst Michael Pachter.
"Facebook has built a huge moat between it and its competitors, and we endorse Mr. Zuckerberg's mission," Pachter said Tuesday, implying the stock might be a sleeper despite its current downward spiral.
As a result of the stock plunge, Zuckerberg is no longer one of the world's 40 richest people.