Father Slammed Over Humiliating Name & Shame Prank On 3-Year-Old Daughter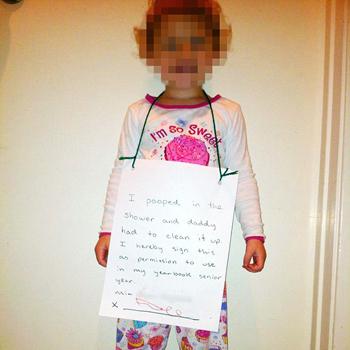 A Reddit user known as Jagknowny has gone viral with a sadistic prank he played on his 3-year-old daughter.
The man posted a picture of his smiling child with a sign hanging from her neck that read, "I pooped in the shower and daddy had to clean it up. I hereby sign this as permission to use in my yearbook senior year."
He captioned the image, "She's so proud of herself!"
Not surprisingly, the humiliating name and shame prank sparked a firestorm of responses - most of them negative - though some seemed to think the caper was in good humor.
Article continues below advertisement
On the blog blameitonthevoices.com, a user wrote: "Hey, Dad, suck it up. That's what being a parent is all about. It is not cool to get a laugh on Facebook or Reddit at the expense of your kid. That is sick. You are sick. And you need help."
Another suggested, "Someone needs to hang a sign on him for being a terrible father that exploits his poor toddler daughter."
The father himself seemed insulated from the bad vibes shot his way in cyberspace, responding to one angry user his daughter can sue him "for 'defecation.'"