Ben Affleck Admits That Jennifer Garner Does The Parenting 'I Am Not Very Present'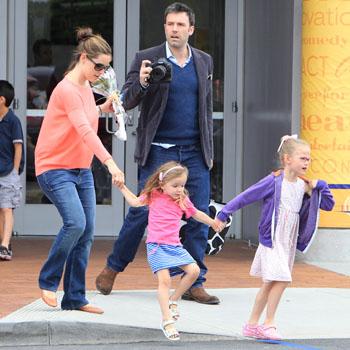 Article continues below advertisement
While the Affleck/Garner clan seem to represent the best of a Hollywood nuclear family, Affleck admits that balancing work with family life can be challenging, and that he hands off the majority of the familial duties to his wife.
"I am not very present in the rest of my life. My wife's very patient. She does everything," Affleck said in a new interview with Details magazine, admitting also that most of the time, even with his family, his mind is elsewhere.
MORE ON:
hollywood happenings
"If I have time, I try to spend time with the kids, even if just to be a physical presence, the bath, whatever. But my mind's always going, 'How are we going to light that shot tomorrow?'"
That said, Affleck says that his creative choices have changed enormously since the dreaded 2003 year where he made several box office and critical flops including the legendarily terrible Gigli.
"Now everything has to compete with being with my family. I don't want to be a stay-at-home dad. Work is very important to me. I like to work. So does my wife. But I need my work to mean something to me in order for me to not be home with them."