Family Day Out For Ben Affleck, Jennifer Garner And Their Super Cute Son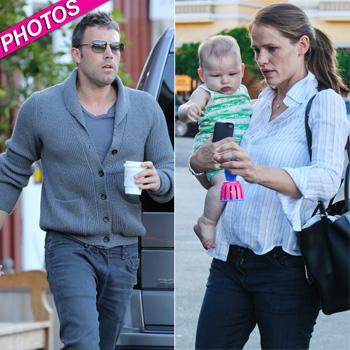 At first glance they look like any other American family popping into their local store.
But if Los Angeles shoppers paid closer attention on Saturday they would have realized the mom and pop dressed down in jeans taking their kids for ice cream were A-list couple Ben Affleck and Jennifer Garner.
In pictures obtained by RadarOnline.com, the Hollywood couple pulled up in an SUV as they took their brood to the Brentwood Country Mart.
Article continues below advertisement
Wearing no make-up, a pair of jeans and a white shirt, Garner was in charge of carrying her bundle of cuteness – six-month-old baby Samuel.
Sporting a gray cardigan Affleck looked like Joe Average as he spent the day with his wife and kids.
As RadarOnline.com previously reported The Town star – a staunch Democrat – is expected to stay away from the party's convention in Charlotte, North Carolina next month.