Jennifer Garner Dishes About Ben Affleck's 'Junk'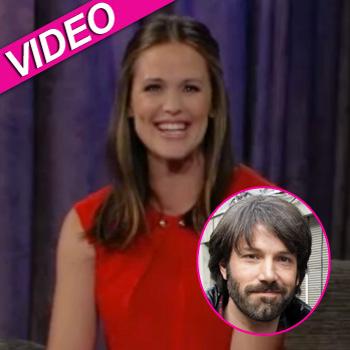 Jennifer Garner told a funny parenting story involving hubby Ben Affleck's 'junk' on Jimmy Kimmel Thursday, and we've got the clip for you right here on RadarOnline.com.
Garner and Affleck, both 40, recently welcomed their first son, Samuel to their young family, which includes daughters Violet, 6, and Seraphina, 3.
The beauty said that the girls have been very helpful with diaper changes, adding they have, indeed, noticed the anatomical differences they have with their little brother.
Article continues below advertisement
"In a very sweetly-curious 3-year-old way," the Daredevil star added.
Jen said her use of slang might have backfired when Ben recently told the girls they had to straighten up their rooms before bed, and clean up their junk.
Watch the video on RadarOnline.com
Jen said the girls told Ben, "You're the one with the junk dad -- your penis," which prompted Ben to call an impromptu parenting conference in the kitchen.
MORE ON:
Seraphina Affleck
Jen said she reasoned with Ben, "How many times a day can you say penis?"
"I say it a lot!" Jimmy said.
Jen's new film The Odd Life of Timothy Green is in theaters now.