Exclusive
Kate Gosselin's Wooden Spoon Spankings Criticized By Child Abuse Group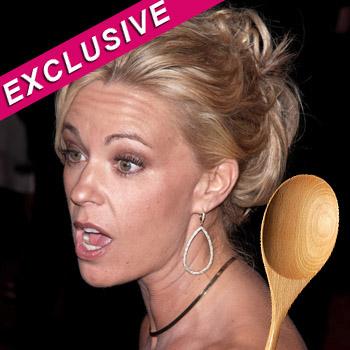 Article continues below advertisement
While he didn't know enough of the details of the situation to comment specifically, Hmurovich explained that "all caretakers and adults can benefit from learning about what's age appropriate in terms of discipline and a child's stage of development."
As RadarOnline.com previously reported, reporter Robert Hoffman claims that he found secret journals that Kate used to help her write her books, Multiple Bles8ings and EightLittle Faces. "She was beating 2-year-old babies in diapers," he told Star magazine. "I don't judge somebody for spanking, but what Kate wrote in her journal is just absolute violence."
Kate's own words may indict her, claims Hoffman. One example: When three of her children helped themselves to M&Ms without permission, she allegedly wrote, "I really, really lost it! I pulled Collin up by the hair, and I spanked them so hard!"
The 37-year-old multiple mom's cruel parenting methods didn't sit well with her ex-husband, Jon Gosselin either. "Jon knew that Kate was using that wooden spoon with the kids and hated it," a family insider exclusively told RadarOnline.com.
Article continues below advertisement
In fact, the insider reveals that during the demise of their marriage that infamous wooden spoon turned out to be a source of heartache for Kate. "When their marriage was crumbling and they weren't on good terms, they were both using whatever they could against each other," the insider said. "And the spoon and Kate's methods of discipline were good ammo for Jon."
The Kate Plus 8 star has been blasted for the spankings on Twitter, with outraged tweets such as: "If you agree that Twitter needs to help stop #Wooden Spoon beatings especially by d-list ex-reality fool" and "BEATING BABIES~ U SICK PEOPLE!!" appearing on the social networking site.