Real Housewives Of New Jersey: 7-Year-Old Calls Joe 'Big Poop'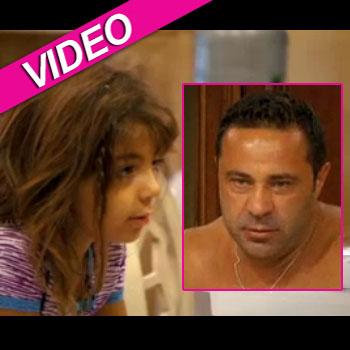 Teresa Guidice's occasionally-dysfunctional family tree has made up a hefty chunk of this season's edition of Real Housewives of New Jersey, and on Sunday, her 7-year-old daughter Milania insulted dad Joe in a way that was excruciating -- and entertaining -- to observe.
The family was planning to attend the sixth birthday party of Joe and Melissa Gorga's daughter Antonia, when Joe sauntered into the kitchen and said that since it was a kid's party, he didn't feel the need to attend.
Article continues below advertisement
"You are so mean! He never wants to see his kids! You big poop!" Milania told her father, as mom Teresa looked on incredulously.
"What you looking at me like that for?" Milania asked her glaring dad, who asked again, "What did you call me?"
"Big poop," Milania said, to which Joe said, "I gotta go," storming out of the room.
Watch the video on RadarOnline.com
As we previously reported, the Giudice family's ups-and-downs have been the backbone of the Bravo hit's fourth season, as Teresa's unorthodox parenting techniques, issues with husband Joe, brother Joe and castmates have made for must-see reality TV.