Becca Tobin And Glee Cast Having Thanksgiving Dinner With Jane Lynch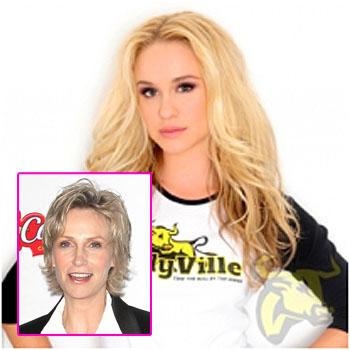 By Amber Goodhand - Radar News Editor
Becca Tobin joined the cast of Glee this season and is having the time of her life on the hit Fox show.
The Georgia native sat down with RadarOnline.com for an exclusive interview, revealing her guilty pleasures, favorite celebrity couples and what she's doing for Thanksgiving dinner!
Radar: What's your favorite reality TV show?
BT: I love any of the Real Housewives, but New York and Beverly Hills
Article continues below advertisement
are my favorite!
Radar: How did you get the part on Glee? Were you a fan before auditioning?
BT: I was working in New York doing mostly Musical Theatre jobs, and my agent called me with this audition for Glee. Since I was a big fan of the show already, I was very excited to audition. I had a couple auditions in New York, then they flew me out to Los Angeles for my test, where I met Ryan Murphy. It was a nerve-wracking experience to say the least!
Radar: What is your guilty pleasure?
BT: My guilty pleasure is definitely ANYTHING chocolate. I can't even keep Oreos in the house or I will eat an entire package in a couple of days... It's frightening actually.
Radar: Have you been starstruck by anyone yet in Hollywood? Who and why?
BT: I was at a party at Ryan Murphys's house, and I met Ellen Barkin. I was pretty excited about that! I saw her in a play called The Normal Heart on Broadway a while ago, and was totally in awe of her talent. The production, and her performance especially, shook me to the core.
Article continues below advertisement
Radar: What are you doing for Thanksgiving?
BT: I will actually be over at Jane Lynch's house for Thanksgiving! She was sweet enough to invite a few of us over who couldn't make it home to our families for the holiday.
Radar: Is there one song you're dying to sing on Glee? What is it, and why?
BT: I am DYING to sing some country music on Glee. The Dixie Chicks and Miranda Lambert's stuff is some of my favorite.
Radar: What's the most embarrassing song/album on your iTunes playlist?
BT: I have LOADS of embarrassing music on my iTunes! I have some ABBA music on there that I love to work out to. And even though she's my favorite singer ever, I probably have an embarrassing amount of Celine Dion music on my ipod.
Radar:Favorite A-list couple: Angelina & Brad, Jen & Justin, Ashton & Mila or Jessica Biel & Justin Timberlake?
BT: Jen and Justin all the way. I am such a fan of hers and he's such a hunk.
RELATED STORIES: