PHOTOS: New Glee Cast Members Shine!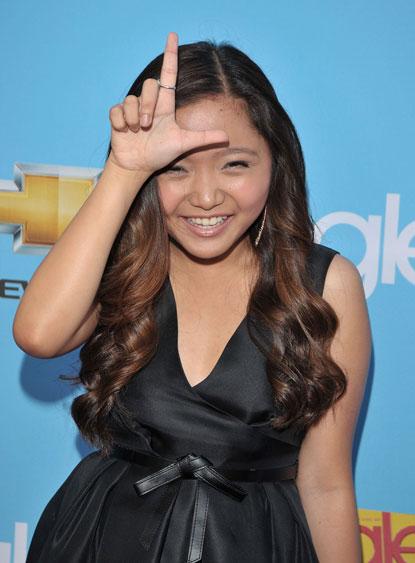 OMGlee! It's the episode of Glee we've been waiting for - Britney Spears makes a special guest appearance Tuesday night on the hit Fox show.
But the Toxic singer isn't the only one getting major Glee buzz; Glee newcomers Charice Pempengco, Chord Overstreet and Dot Jones are also striking a chord with viewers.
Just 18-years-old, Charice Pempengco is the pint-sized Filipino powerhouse who belted her way into Gleek hearts last Tuesday night.
Article continues below advertisement
She's a singing sensation who has been featured on Oprah and performed a duet with Celine Dion. As Sunshine, the foreign exchange student, Charice has earned the evil eye from Lea Michele's Rachel.
Charice's YouTube videos have helped her skyrocket to fame, and this video has over 21 million views.
She's already been involved in her own Hollywood scandal - she's had Botox! Charice said the Botox was for jaw pain, which rings true because there is no way this young beauty has any wrinkles yet!
Glee Girls And Hopeless Romantics: Best And Worst
Coach Shannon Beiste just might be the breakout star of the season. Dot Jones, 46, a champion arm wrestler, reportedly saw Glee co-executive producer Brad Falchuk in a grocery store and told him she wanted to be on the show - and much to her surprise, it happened!
As Sue Sylvester's new rival, Dot Jones will be going toe-to-toe with the cheerleading coach.
Article continues below advertisement
Glee's new resident hottie is Chord Overstreet, the hunky new football player who is dating... well, no one is sure yet but everyone is watching! The 21-year-old Nashville native plays the guitar too, so maybe he'll be showing off his musical skills on the show soon. The ripped actor recently told Vanity Fair that he does three hours at a time in the gym, and a hour just on abs. Jersey Shore's "The Situation" had better watch out, this guys' got a rocking set of abs!