Jackson Kids Enjoy A Day At Disneyland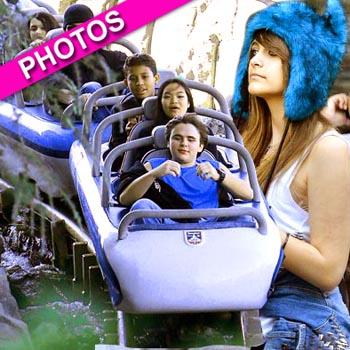 It's no Neverland, but it'll do.
Paris, Prince and Blanket Jackson enjoyed a fun time at the Happiest Place on Earth -- Disneyland -- in Anaheim, California with friends and family Sunday, and we've got the just-received shots for you right here on RadarOnline.com.
The outspoken 14-year-old Paris wore a furry blue novelty cap, white vest and a denim jacket-pants combo to the world famous amusement park, flanked by a few of her high school pals. Long-haired, solemn-faced Blanket, 10, wore a hoodie with a red shirt bearing his late father Michael's image. The kids went on rides such as the Matterhorn, Splash Mountain and Jungle Cruise.
Article continues below advertisement
Family matriarch Katherine and the kids' cousins Genevieve, Jermajesty, Royal, Tarryl, and (co-guardian) T.J all came along for the trip, and it seems that the family tumult that dominated the headlines this summer has faded as the holidays approach.
As we previously reported, the family was feuding in July after Katherine abruptly disappeared (to a Tucson, Arizona resort) in the midst of a power struggle between her kids Janet, (Rebbie, Tito, Randy, and Jermaine) and the executors of Michael's estate, John Branca and John McClain.