Newlywed Nurse's Murder Allegedly Ordered By Cult Prayer Group Leader Husband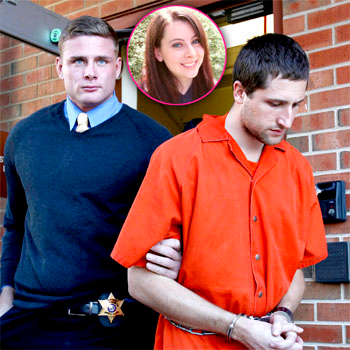 By Debbie Emery - Radar Reporter
Three months ago, Micah Moore was acting as groomsman at the wedding of his close friends, whom he had known since their college days in Texas.
In a shocking turn of events, on Wednesday instead of walking down the aisle the 23-year-old was walking into a courthouse in handcuffs after confessing to killing the bride at the request of the groom who was a charismatic prayer group leader, reported the New York Daily News.
Article continues below advertisement
Investigators initially assumed that the October 30 death of Bethany Deaton, 27, currently living in Kansas City, Missouri, was a suicide after they found a note and an empty bottle of over-the-counter pain medication along with her body in a minivan parked by a lake, and it wasn't until Moore confessed two weeks later that they considered the case a homicide.
In the subsequent criminal complaint, police reveal stunning details of the allegations that the now first degree murder suspect spilled about the communal home he shared with Deaton, her husband, Tyler, and several male members of their prayer group.
Moore claimed that the men had sexually assaulted Bethany and because they were worried she would tell someone, he was ordered to kill her and told to make it look like a suicide.
The bizarre love and death triangle began when the couple met as freshmen at Southwestern University in Georgetown, Texas, in 2005, and two years later Tyler started a prayer group, a former longtime member of the group told The Associated Press.
Article continues below advertisement
"Since Bethany's death it has come to light that over five years ago, both she and Mr. Moore joined an independent, close-knit, religious group in Georgetown, Texas," said the school in a statement, having distanced itself from the extreme sect. "This religious group of fewer than 20 people was led by Tyler Deaton. They relocated to Kansas City over the last few years and operated under a veil of secrecy."
Tyler and Bethany moved to Kansas City in 2009 from Texas to attend a six-month internship at the non-accredited International House of Prayer University.
IHOPU is the educational arm of International House of Prayer of Kansas City, an evangelical Christian group focused on missions and preparation for the end of time.
The Deatons' prayer group had at least two houses, with women living in one and men in another but Bethany reportedly moved into the men's house with Tyler after they married in August.
Article continues below advertisement
According to the disturbing criminal complaint, Moore told police that men in the house began drugging the new bride and sexually assaulting her soon after she moved in. He said she was seeing a therapist and group members became concerned she would tell him about the assaults.
He went on to reveal how Tyler asked him to kill his wife because he knew he would go through with it, which he did – allegedly by placing a bag over her head and holding it until her body shook.