Exclusive
Will Snooki & Her Baby Daddy Make It Down The Aisle? New Report Says They're Only Together For Fame!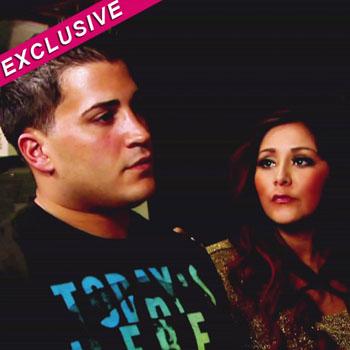 They've been putting on a brave face for the cameras, but Nicole "Snooki" Polizzi and her baby daddy Jionni LaValle are heading for splitsville, according to an exclusive new report in Star magazine.
The Jersey Shore star and her fiance have looked the perfect couple as they've hit the chat show circuit to promote her new reality show Snooki & JWoww, which has already been renewed for a second season.
Article continues below advertisement
But, according to a source, the couple, who welcomed a baby boy called Lorenzo on August 24 are only together for fame.
"Snooki is desperate to stay famous," a source told Star. "She can't stand to be around Jionni. She's only going to go through with the wedding for a million-dollar payday."
And the problems are further escalated by reports that Jionni is frustrated with Snooki for wanting to go out and party like it's 2009, while she thinks he's an absent father.
Snooki is furious because "he refuses to even touch the baby and acts like he can't hear Lorenzo screaming for attention," the source says.
However, Jionni has defended himself by claiming "the only reason he's laid off helping so much is to force her to do more."
Star claims that the fighting is so bad, the two can't be in the same room together before lashing out at one another.
"It's quite sad, really, and the one who is suffering the most with their selfish behavior and constant fighting is poor baby Lorenzo," the insider said.