Snooki Vows She Is Done With Clubbing, More Fun Staying Home With Baby!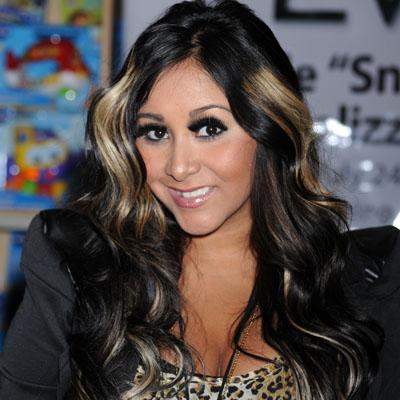 If you want to see Snooki out late, dancing to club tunes, being hauled off in handcuffs after a drunken brawl, swigging from a bottle (or puking in the gutter), it'll only be on a Jersey Shore rerun, as the reality TV star/new mom vows that she's done with the party girl lifestyle many identify her with.
"I still want to have a glass of wine and to have fun, but I have no intentions of going to a club," Snooki, who gave birth to her son Lorenzo Dominic LaValle (with fiance Jionni Lavalle) earlier this month, says in a new magazine article. "I'm over it.
Article continues below advertisement
"I'd rather stay home with our son. That's fun."
Even drinking is a no-no for the new mom, whose over-the-top booze binges made for reality TV fodder that turned Jersey Shore into one of TV's surprise hits over the past three years.
"It's too early. I just gave birth," she said. "I want to make sure it's the right time because I'm recovering. It hurts.
As for her revelrous years clubbing, drinking and smooshing in front of the MTV cameras, she said she'll let her son watch the show when he's "probably 14."
MORE ON:
hollywood happenings
"I'll show him," she tells People. "He'll love me no matter what -- and we love him."
Early rumblings of a kinder, gentler Snooki emerged when her best bud JWOWW told Good Morning America earlier this year that when the normally hard-partying Snooki found out she was expecting, "she did a 180.
"Overnight, no drinking, no smoking, no partying -- it was all over with the day she found out she was pregnant," said JWOWW.