Snooki Arrested After Boozing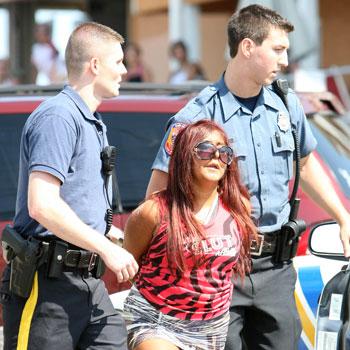 Nicole "Snooki" Polizzi of MTV's The Jersey Shore has been arrested in New Jersey, RadarOnline.com has learned.
"Snooki was drinking in public," one source told RadarOnline.com. The incident happened on Friday in Seaside Heights, New Jersey. Snooki was drinking Patron.
VIDEO: Watch Snooki Get Arrested
"J-WOWW was spotted trying to talk Snooki into going back into the house," a friend said. "But Snooki was out of control and seemed drunk." New castmember Deena was also present.
Article continues below advertisement
She has been charged with disorderly conduct.
"She is in our lockup right now, she is under arrest for disorderly conduct, we are waiting for the police report to come through," the chief of police confirmed to RadarOnline.com. He also confirmed that they are not planning on giving her a blood alcohol test because she was not driving at the time of her arrest.
MTV is currently shooting the third season of the popular reality show. On Thursday night, Snooki was out on the town until wee hours of the morning. "If no one is with her, Snooki can keep drinking until she passes out," the friend added.
The pint-sized brunette has been in trouble with officials before- she famously got into a bar fight during the first season.