JWOWW: Hard-Partying Snooki 'Did A 180' Finding Out She Was Pregnant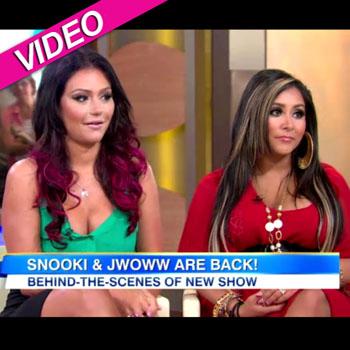 Snooki set to give birth to her first child, a boy with fiancé Jionni Lavalle later this summer, and on Wednesday's Good Morning America,
she appeared alongside her partner-in-crime JWOWW to promote their new MTV spin-off, Snooki & JWOWW.
Snooki said she sprang the big surprise on JWOWW when they first moved into their new place.
"At the last moment, I'm like, "I'm pregnant ... alright, let's do this," Snooki said.
Article continues below advertisement
"It was like an episode of Punk'd -- I was shocked!" said JWOWW.
Jersey Shore Drug Arrest Case Going To Grand Jury
JWOWW said when the normally hard-partying Snooki found out she was expecting, "she did a 180.
"Overnight, no drinking, no smoking, no partying -- it was all over with the day she found out she was pregnant."
JWOWW said her pal is "enjoying" her pregnancy, adding she's "never seen someone, like, embrace pregnancy the way that she has."