Wow That's Some Baby Bump! Pregnant Snooki Is Finally Showing!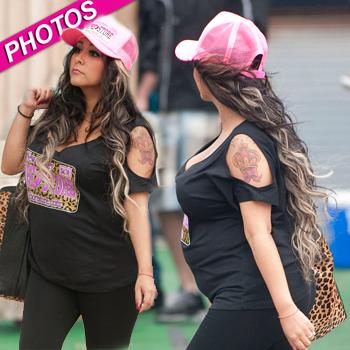 It's the moment we've all been waiting for -- Snooki is finally showing her baby bump!
Bragging just a few weeks ago that she wasn't wearing maternity clothes, it doesn't look like that's going to be the case much longer, and RadarOnline.com has photos of Snook's burgeoning belly.
In April the Jersey Shore star said she "would die" if she looked like Jessica Simpson during her pregnancy and unlike the singer who admitted she splurged on everything she wanted, Snooki vowed to eat healthy, but it appears the 24-year-old has learned just how tough it is!
Article continues below advertisement
In fact, the the petite reality star known for her outrageous shoes, has now traded her in trademark high heels for more sensible flats which is something most never thought they'd see!
Although Snooki ragged on Jessica for her weight struggles, she later took to Twitter declaring her admiration for her writing: "I love the girl and her hot a** bump." (Jessica, who gave birth to her daughter Maxwell on May 1, has since signed up as the new face of Weight Watchers).
Snooki is due to give birth in about three months and this will be the first child for her and fiancé Jionni. While she's happy to be having a boy, she says she was really hoping for a girl.
"Everyone said I was going to have a boy, and they were right! I thought it was going to be a girl," she said. "I was hoping it would be, because all girls want girls. It's still my baby, no matter what. I'm excited either way!"