Snooki Bullies Jessica Simpson On Her Pregnancy Weight 'I Would Die If I Were Her Size!'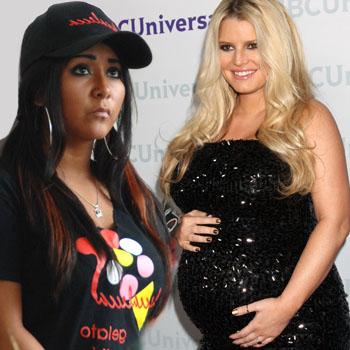 By Alexis Tereszcuk - Radar Entertainment Editor
So much for not bullying people, Snooki!
Nicole "Snooki" Polizzi is five months pregnant with her first child, but the outspoken anti-bullying advocate had some mean things to say about Jessica Simpson's pregnancy body.
The pint-sized MTV reality star cattily dissed Jessica, who has said that her unusually large baby belly is due to a lot of amniotic fluid.
Article continues below advertisement
"I would die if I were her size!" Snooki sniped about the heavily pregnant Fashion Star host to Us Weekly.
Her Jersey Shore co-star Pauly DelVecchio also got in on the slam, commenting on how overdue he thinks Jessica is.
"She's like 45 months pregnant right now!"
The reformed hell raiser, who famously loves pickles but was recently paid to lose weight by endorsing Zantrex-3 fat burner, slammed what Jessica said she's been eating during her pregnancy.
"She said she indulged in everything that she wanted. I'm trying to each healthy -- fruits, lots of jelly and Italian ices. Nothing fattening at all."
RELATED STORIES:
Jersey Shore Slim-Down! How Deena Cortese Got Her Best Body Ever
Pregnant Snooki Gives Up Bars For Ice Hockey
Super Skinny Snooki Hides Her Baby Bump But Flaunts Her Amazing Shoes Collection!