Reformed Party Girl Snooki Claims Pregnancy Has 'Made Me More Mature'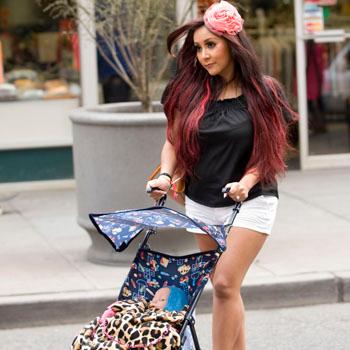 Article continues below advertisement
"I guess pregnancy just made me more mature," the 24-year-old confessed during a press conference for her new show Snooki & Jwoww in New York on Thursday.
"It's different because now I'm not drinking. I'm usually partying and going to clubs but pregnancy made me grow up a lot."
The reformed hell raiser went on to share that so far pregnancy has been a breeze, and she hasn't been plagued by pesky morning sickness.
"I hardly threw up," she said. "I was just very tired and cranky."
And the mom-to-be, who is renown for her love of pickles, shared that her pregnancy cravings have been entirely of the healthy kind: "a lot of fruits and Italian icies … no pickles," she said.
Snooks' reality sidekick, Jenni "J-Woww" Farley chimed in with praise for how her best friend is dealing with impending motherhood.
"She really came into her own being pregnant," J-Woww said. "Looking at your best friend and seeing that you feel proud."