Snooki: '18 Precious Weeks' Pregnant!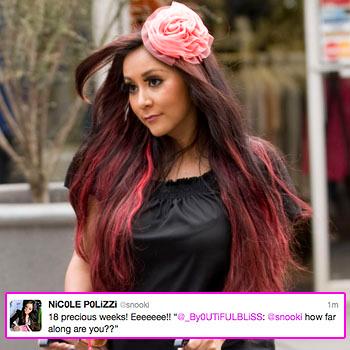 Snooki is sharing all of her pregnancy milestones with her Twitter fans, including how far along she is!
The Jersey Shore star revealed on Friday that she's 18 weeks in — pinning her conception date as somewhere in the third week of December, 2011.
"18 precious weeks! Eeeeeee!!" Snooki tweeted to a follower who asked her how many weeks pregnant she is.
"I've never been so happy!!"
Article continues below advertisement
As Star magazine was first to report via RadarOnline.com in February, the pint-size guidette and her boyfriend — now fiance -- Jionni LaValle, are expecting their first child together.
It wasn't until a staggering 35 days later that Snooki finally confirmed the baby news that we had reported just 8 weeks into her pregnancy.
So is this one-time party-girl-beer-guzzling-bar-hopping Snooki ready to be a mother?