Jersey Shore Slim-Down! How Deena Cortese Got Her Best Body Ever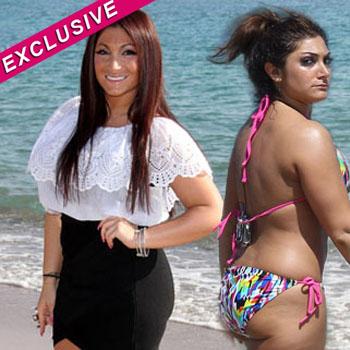 Move over, Snooki -- there's a new skinny girl on the Jersey Shore!
Deena Cortese, who joined the cast of the popular reality show during season 3, looks unrecognizable lately after dropping a massive amount of weight, and RadarOnline.com has exclusive details about how the Guidette has followed in Snooki's weight loss success.
The 25-year-old has dropped several dress sizes with the help of The Fresh Diet – a meal delivery program, which offers well-balanced, low calorie meals dropped off daily at your home.
Article continues below advertisement
Deena, who started the delivery diet about 2 months ago, is on the 1200-1400 calorie a day program, and it's obvious that her calorie-slashed diet has been effective from the looks of her dramatic body transformation!
"About to eat my @FreshDiet breakfast," Deena Tweeted late last month. "I've only been on it a month and I'm already getting so many compliments I feel great!"
Though The Fresh Diet allows users to choose their own breakfast, lunch, dinner and snacks, a rep from the company tells RadarOnline.com that Deena allows the New York kitchen to choose her meals 99% of the time.
Other stars who are fans of The Fresh Diet include Maria Menounos, Sherri Shepherd and Jonah Hill.
See below for a sample of Deena's daily menu:
Breakfast
Fresh Fruit Salad with Cantaloupe, Raspberry, Papaya, Honeydew, Pineapple & Vanilla Yogurt
Lunch
Philly Cheese Steak Whole Wheat Wrap with Sauteed Mushrooms
Dinner
Lean Turkey Meatballs with Fresh Marinara Sauce
Snack
Beef Slider with Cheddar Cheese and Caramelized Onions on Whole Wheat Bread with Barbecue Sauce