Jessica Simpson Strips For Cover Of Elle, Says She's Having A Girl!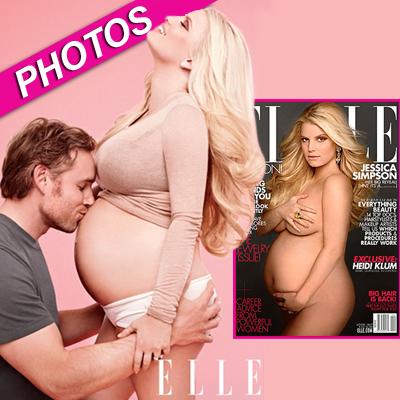 Taking a cue from Demi Moore, a naked Jessica Simpson and her baby bump are on full display of the April cover of Elle, in which she finally reveals the gender of her unborn baby with her fiance, former NFL tight end Eric Johnson.
It's a girl, Jessica says, adding, "I swear, I will croak if she asks me for a pair of Nikes instead of Christian Louboutins!"
Article continues below advertisement
She says she fears the tomboy possibility, as her fiance "Eric is so athletic.
Very Pregnant Jessica Simpson Stands Out In Beverly Hills
"We're gonna have this athletic girl and I won't even be able to take her shopping," the fashionista told the magazine.
As for the name, Jessica cut the revelations short there.
"It's nothing shocking and nothing you'll have to add to the dictionary," she said. "Still, when people hear it, they'll know … why."