Baring It In Brazil! Topless Lady Gaga Covers Up Her Little Monsters With a Coconut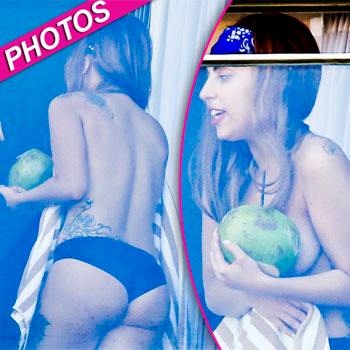 Lady Gaga had an uncharacteristically modest moment on Wednesday, covering up her bare breasts with a strategically placed coconut, and RadarOnline.com has the photos.
The singer stepped out on her hotel balcony in Rio De Janeiro, proudly showing off her curves in just skimpy bikini bottoms, but decided against going fully topless, instead utilizing her coconut (which she had been drinking out of) to save her modesty.
Article continues below advertisement
The 26-year-old is in Brazil as part of her Born This Way world tour and is clearly excited about her performance Friday at the Parque dos Atletas (City of Rock).
"Brazil, there's hundreds @ the hotel and this is what the f*ck its all about, revolution through music. Get ready to party at the show in 2 days," she tweeted Wednesday.
Meanwhile, in true Gaga fashion, the singer found some time to share her love with her league of Little monsters, sending down burgers and fries for the fans camped out below her hotel balcony.
"OI GALERA! In Rio + My beautiful fans are wearing leather & bandanas in the sun, bad asses, gorgeous smiles & fists in the air! I HEAR U!" She tweeted. "Im sending you hamburgers, fries and coke. I love you monsters."
And, it's not just the Brazilians that Gaga's showing her love for. She announced on Twitter Wednesday that she made a $1 million pledge to the Red Cross Hurricane Sandy fund on behalf of herself and her family, who all reside in New York.
Article continues below advertisement