Lady Gaga Flaunts Her Fuller Figure In Shiny Beer Branded Bikini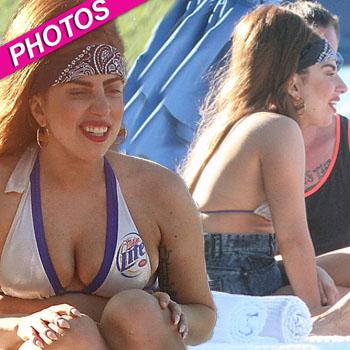 It's Miller time!
Lady Gaga is embracing her fuller figure while getting in some fun in the sun and RadarOnline.com has new photos of the curvy singer hanging pool side in her shiny, beer branded bikini.
The Born This Way singer took a much needed break from her tour to show off her curves in a Miller Lite bikini in San Juan, Puerto Rico.
The 26-year-old has been outspoken about her recent weight struggle, and telling her Little Monsters that she gained 30 pounds, but she says the weight gain doesn't bother her.
Article continues below advertisement
"I thought, well I don't really care if they think I'm fat, because, quite honestly, I did gain about 30 pounds," she told Stylist UK.
She also compared herself to Adele, wondering why she isn't picked on for her weight.
"Adele is bigger than me - how come nobody says anything about it? She's so wonderful and I think her confidence is something I have to match. She has set the bar very high for a lot of women."