Kardashians Kick Ass! The Secrets Behind Kourtney & Khloe's Sexy Slim-Downs!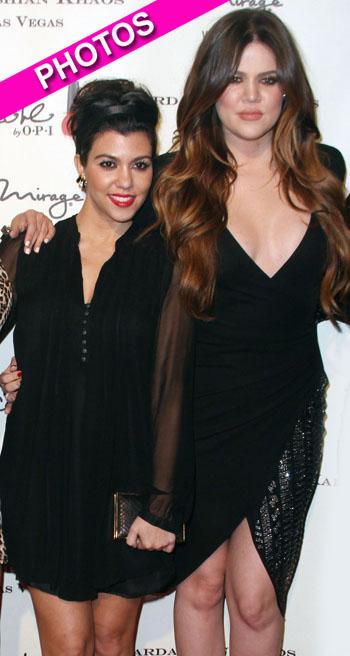 Article continues below advertisement
Determined to look her very best for her starring role on the reality TV stage, 28-year-old Khloe hits the gym with trainer to the stars, Gunnar Peterson, who whips her ass into shape in highly efficient sessions.
"I write different workouts for every day," said the Beverly Hills fitness guru. "There is no routine…that's the routine!"
Peterson (who also trains big sis, Kim) explained that fatiguing one set of muscles then jumping to another and maintaining an elevated heart rate is the key to getting Khloe to burn fat fast. "Then we'll drop into a plank, and she'll hold it until her core starts to shake."
Also essential to 5'10" Khloe's weight loss is an overhaul of her diet, which has meant sacrificing many of her favorite fattening treats. "I love cheese…but I try to limit it," she confessed, instead sticking to sushi, whole grains and small portions. "I'm just changing my diet slowly."
The largest build of the three sisters, she has successfully whittled her waist down to its smallest ever and dropped to a healthy 145 pounds, according to nutritionist Elena Michaels.
MORE ON:
Keeping Up With the Kardashians
Article continues below advertisement
However, even Khloe is aware that the pressures of her new job could cause chaos in the kitchen and blow all her hard work. "If I do too much, too soon…I know I will go back and binge eat and cry," she revealed.
As for big sister and new mom Kourtney, she has a whole different set of challenges after giving birth to baby number two, Penelope, four months ago but has already lost an impressive 40 pounds and is only five pounds away from her pre-pregnancy size.
"Kourtney said it was harder than it was after Mason's birth," an insider told Life & Style, and she's struggled to fit in workouts at Eden Roc hotel's fitness center, while breast-feeding her baby daughter and running a business empire.
"Now that she's lost some of the weight, it's motivating her even more to keep going and get her bikini body back."
As always, winter vacations in Miami with her famous family will be a great push to get back into a two-piece!