What A Boob! Khloe Kardashian Has 'Nip Action' On X Factor Debut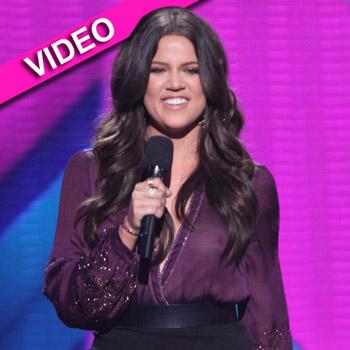 Khloe Kardashian malfunctioned when choosing her wardrobe for her first night on The X Factor, as the reality star wore a purple blouse so sheer her nipple was obviously poking through on the primetime talent show.
"May I say, Khloe, you're looking very sexy tonight," Simon Cowell told her, later tweeting the same sentiment. "I think the air conditioning's on high tonight. It's very distracting."
Article continues below advertisement
Khloe herself eventually addressed the fashion faux pas, tweeting, "I think I had a little nip action earlier LOL."
The wife of Lamar Odom had a similar incident appearing on the Fox network last year.
Pseudo nip-slip aside, Khloe showed she's got potential -- but still has a bit to learn -- in her first outing as co-host alongside Mario Lopez.
While Khloe has spent plenty of time in front of the cameras -- both on her family's reality shows and a string of endless promotional appearances -- her sometimes-awkward demeanor Wednesday showed that hosting is a whole different ballgame, despite how easy vets like Lopez, Ryan Seacrest and Tom Bergeron make it look.
In one instance, the 28-year-old reality star -- who was recommended to the show by pal Demi Lovato -- sounded strange introducing Cowell as "Mr. Sexy."
After 13-year-old contestant Diamond White told Lopez her mother would kill her if she had a boyfriend, Khloe blurted out, "Don't let your mom kill you," getting a weird look from the teen.
For her part, Khloe didn't seemed fazed by the new challenge, firing off an optimistic series of tweets excited about her new gig.
Article continues below advertisement
"Already half way into the show - and I must say I LOVE LOVE LOVE my new job!!! #xfactor," she tweeted. "Thank you for giving me courage to do this!!!!!!!"
Simon, in a conference call Tuesday, said that Khloe would need "nerves of steel" in the early going, as she's playing catch-up after just getting the gig last month, and not rehearsing much for it. Still, he says her lack of experience didn't put him off to giving her the gig.
"I kind of like to see the unpredictable," Cowell said, "and I quite like seeing people under pressure and just how they deal with it."
Khloe and Lopez, 39, replace former host Steve Jones.
Across town, Khloe's hubby Lamar found himself in similar circumstances -- having to prove himself -- in his first game back with the L.A. Clippers after a career-worst season last year. Odom played well, in a sparse 17 minutes on the floor, after missing the last two weeks of the off-season with knee injury.
Article continues below advertisement