Khloe Kardashian On Weight Struggle: 'Who Cares If I'm Not A Size Zero? I Love My Body!'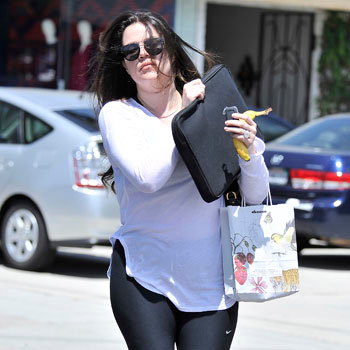 At 5 ft 10 inches and with a different body type than her sisters Kim and Kourtney, it's no secret that Khloe Kardashian has struggled with her weight over the years, but the reality star is finally coming to terms with her insecurities.
In the December 2012 issue of British Cosmopolitan, where Mrs. Lamar Odom graces the cover alongside her sisters, the 28-year-old opens up about her body image issues.
Article continues below advertisement
"It isn't easy," Khloe admits. "My weight fluctuates, like any normal girl, and I have times when I feel insecure.
"So if I come under scrutiny at one of those times, then I might get really down on myself. But the next day, I might be like, 'Oh, f**k off,' I'm so much better than that."
Khloe, who has been a fixture in the media since Keeping Up with the Kardashians made her a household name, has learned how to deal with the public scrutiny she faces almost daily.
MORE ON:
Keeping Up With the Kardashians
"I have moments of weakness, but mostly I brush the criticism off," she states. "Who cares if I'm not a size zero? I don't want to be. I love my body; I'm healthy, I work out."
And what doesn't kill her, only makes her stronger.
"But I also enjoy life… the more scrutiny I am under, the more confident I become. I am who I am. I can't do anything about it, and I love who I am."
RELATED STORIES:
Kim Beats Kate! Kardashian Kollection Expected To Outsell Moss's Fashion Line In UK!