Exclusive
Couples Therapy Curse Strikes Again! JoJo & Tiny Split, She Can't Deal With His Drinking & Denial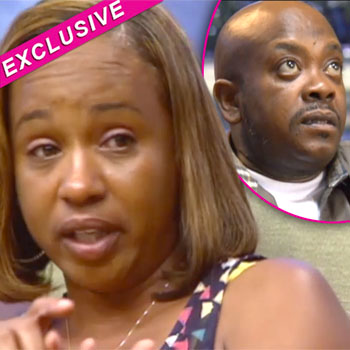 Following in the footsteps of countless others who have undergone "counseling" on VH1's hit show Couples Therapy, JoJo and Tiny have split, RadarOnline.com is exclusively reporting.
Not surprisingly, JoJo's excessive drinking is at the heart of the break-up, as a close friend of the R & B singer, real name Joel Hailey, says his long suffering wife finally decided enough is enough and has washed her hands of him - for good.
Article continues below advertisement
"Tashaunda just can not deal with JoJo's alcoholism any longer," the source says. "And, I can't blame her. I've known JoJo for years and his out of control drinking has always been a major issue in our friendship.
"He's just a different guy when he drinks, he's like Jekkyl and Hyde…. he changes. I think what really grates on Tiny is that JoJo will not admit to his problem and therefore will never get help. The relationship is going nowhere and she isn't prepared to stick around and nurse an alcoholic any longer.
"He's been in and out of the hospital over the years for his drinking and the stress and worry is just too much to deal with. Add to that the fact that he turns into this raging a**hole when drunk and it's a no brainer she's done with their marriage."
The couple's relationship woes have been playing out on camera during the current season of Couples Therapy. JoJo's alcoholism is a frequent fighting point, combined with his complaint that Tiny "mothers him."
Article continues below advertisement
"Tiny has had no option but to mother him over the years," the source says. "JoJo is a wreck, he's a shell of the man he used to be due to his excessive drinking, and if he doesn't get help soon everyone close to him fears he will die.
"I honestly don't know how he is going to cope without Tiny being there for him, I'm seriously worried he is just going to fall to pieces."
This isn't the first time JoJo's drinking has been addressed on reality TV. The singer and his brother, K-Ci previously starred in their own 2010 show, Coming Clean, which followed the two as they embarked on an intense, 35-day alcohol and substance abuse program that included counseling, living together and even undergoing blood transfusions in order to begin the sobriety process.
Meanwhile, JoJo and Tiny join the legion of other couples who have not benefitted from resident therapist Dr. Jenn Berman's words of wisdom.
As RadarOnline.com previously reported, all five couples who participated in the first season have since split!
Bachelor Pad alums Vienna Girardi and Kasey Kahl had moved in together and were hoping to marry before they went into therapy, but now they are not even speaking.
Article continues below advertisement
Other blossoming romances suffered similar fates, with Jersey Shore's Angelina Pivarnick discovering that her bad boy lover Chris Nirschel was a "liar and a cheater," she claimed. "He's a manipulative womanizer, and the show's doctors couldn't change that."
And, rapper DMX and wife Tashera Simmon, Linda Hogan and boy toy Charlie Hill, and Amazing Race champ Reichen Lehmkuhl and boyfriend Rodiney Santiag all split too!