Exclusive
Brigitte Nielsen On Shocking Pics Of Her Drinking Vodka In Park: 'There Is No Cause For Alarm'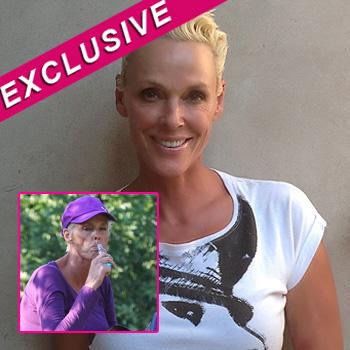 By Jen Heger - RadarOnline.com Assistant Managing Editor
Brigitte Nielsen, who has openly battled an addiction to alcohol, wants her fans and friends to know there is "no cause for alarm" after shocking pictures emerged over the weekend of her drinking vodka in a park, RadarOnline.com is exclusively reporting.
"I would like to thank all my fans as well as my friends from the Hollywood comunity for the heart warming calls and emails about those unfortunate and dramatic pictures. Looking at the pictures I can understand the level of worrying, but I can assure everyone that there is no cause for alarm. I have been on the road working non-stop for such a long time, fulfilling my professional commitments, shooting shows around the world with all the pressure that comes with it," the blonde beauty told RadarOnline.com in an extremely emotional interview.
Article continues below advertisement
As we previously reported, the Celebrity Rehab alum, 49, was pictured over the weekend drinking directly from a bottle of cheap Popov vodka and also from an unlabeled mini bottle. She smoked cigarette after cigarette, and later stumbled to the grass where she appeared to pass out.
The Danish model and actress says: "That combined with major health issues in my familly drove me to the unfortunate circumstances that you can see on the pictures. At that moment in time, I felt like I needed a moment to myself, in a park. The vodka came about as a desperate move to try to release some pressure and is under no circumstances an indication of how I lead my life on a day to day basis."
Slyvester Stallone's ex revealed that her mother "is extremely ill. I just haven't been coping well with my mother's illness. I'm not making any excuses for my actions. I have spoken to my sponsor from Alcoholics Anonymous, and I continue to go to meetings. I'm committed to my sobriety, and I'm not going to let this momentary relapse define me. I'm not perfect, and I'm battling a disease, and yes, there will be setbacks, but I know what I need to do in order to be healthy."