'Drunk' TV Anchor Annie Stensrud Breaks Silence: "I Thought My Life And My Career Was Over"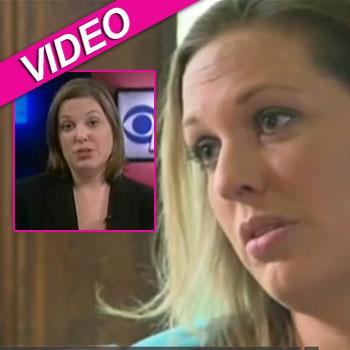 Former Minnesota TV news anchor Annie Stensrud, who famously was featured in a viral video in which some viewers took her for being drunk, has broken her silence on the embarrassing incident, which she says was spurred by an adverse reaction to anti-anxiety medication -- and not alcohol.
Stensrud's unwanted 15 minutes of fame emerged as she anchored a Sunday night broadcast for KEYC-TV in Mankato, Minnesota last December, appearing confused and out of sorts as she read the news. A clip of the broadcast soon went viral, and rumors sprouted she was drunk on the air.
Article continues below advertisement
Not so, says Stensrud, who said, "I wasn't drunk and I hadn't been drinking.
"It feels good to finally talk about it," Stensrud, 28, told KARE-TV in Minneapolis. "It's still hard to believe all of this ... I thought my life and my career was over."
Stensrud said the medication she was taking at the time had an inconsistent impact on her personality.
"Some days I was really talkative and others I was in a fog: The fog got heavier the more I took it," she said.
Watch the video on RadarOnline.com
A few weeks later, a "very depressed" Stensrud "responded by drinking" to numb the pain -- and was arrested for DUI shortly thereafter.
"It grabbed a hold of me and I needed help," she said. "I couldn't have done it on my own."
Stensrud said she's moving forward in her life and career, with hopes of continuing in broadcast news as an anchor and reporter.
"There's no need to go back and read what people wrote about me," she said. "It doesn't help. I'm a better person before it happened and I hope that gets even better in the future."