Exclusive
Teen Mom's Farrah Abraham: 'She Abuses Adderall & Xanax While Chugging Booze,' Says Pal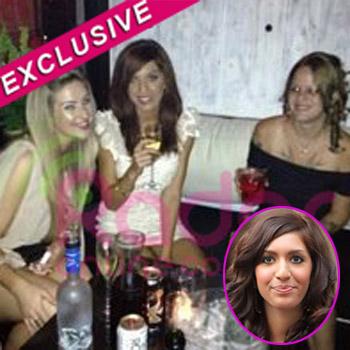 Article continues below advertisement
"When she was in Hollywood to celebrate her 21st birthday we partied at Geisha House and Kiss Lounge in Beso," Austin said.
"All throughout dinner and the club she talked about how she does Xanax and Adderall to stay up and energized. She frequented the bathroom that whole night taking them to stay up."
Austin also told RadarOnline.com that coupled with all the alcohol she was drinking, Farrah became a drugged, drunk mess on that June 2 night.
"She got very drunk. She was grabbing on guys and girls, and even hit one guy that didn't want to dance with her," Austin said.
"She got really sloppy and was throwing her drinks around and yelling."
According to Austin, Farrah told her that not only does she use these prescription drugs to stay awake when she's out partying, but she uses them to deal with her busy schedule.
"Farrah said she does Adderall before every event that she attends," Austin said.
Article continues below advertisement
Farrah was pregnant with her daughter Sophia when the baby daddy, Derek Underwood, died in a tragic car crash in 2008 — leading Farrah to contemplate suicide and drown her emotions with marijuana and cocaine.
"When I drank, I'd be happy for 10 minutes," Farrah said. "When I got high, I'd feel a sense of nothingness for about an hour. But in the end, my negative emotions always came rushing back."
Austin says Farrah has just substituted old drug habits for new drug habits.