Hector Camacho Family Divided Over Taking Brain Dead Boxer Off Life Support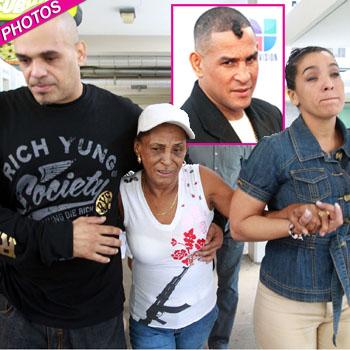 Boxing champ Hector 'Macho' Camacho may be losing the toughest fight of his life as – days after he was shot in the face in Puerto Rico – doctors have declared him "clinically dead."
Now the 50-year-old's friends and family face the agonizing decision of when to take the former world champion off life support.
As RadarOnline.com previously reported, Camacho was shot in the face on Tuesday while sitting in a car outside a bar with a friend, who was killed during the attack.
Article continues below advertisement
Two days later – despite valiant attempts to save his life – doctors announced the boxer is "brain dead."
The family is now divided about when they should take Camacho off life support, if at all. His eldest son, boxer Hector Camacho Jr., told reporters he believes his father is still alive.
According to Macho's aunt, Aida Camacho, two of his sisters want him to remain on the artificial respirator until Saturday. She told reporters: "I'm a person of a lot of faith, and I believe in miracles, but science has spoken."
She also added the family will decide on Friday whether to donate her nephew's organs.
Though born in Puerto Rico, Camacho was raised in New York and that is where his sisters would like him to be buried.
Speaking of his father's native land, Camacho Jr. said: "Death, jail, drugs, killings. That's what the streets are now."
Camacho won fame and world titles in the 1980s. During his career faced high profile opponents such as Sugar Ray Leonard and Oscar De La Hoya.