Wendy Williams On Her Past Drug Use: 'I Could Have Ended Up Like Whitney Houston'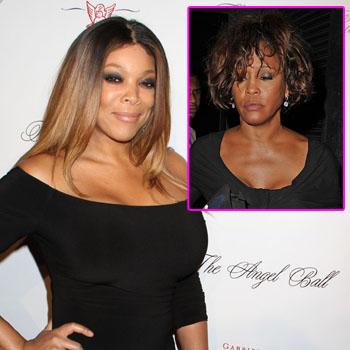 By Amber Goodhand - RadarOnline.com News Editor
Daytime talk show host Wendy Williams has made no secret of her past struggle with drugs, and it was the shocking death of Whitney Houston that prompted her to talk about her addiction on her national TV show, The Wendy Williams Show.
After struggling with a 10-year addiction to cocaine in her 20s, Wendy admits that when Whitney died in February there were far too many similarities in their lives to ignore, making her grateful for her journey to sobriety.
Article continues below advertisement
"That could have been me if I hadn't sobered up," Wendy said.
"Whitney and I are about the same age, we both come from New Jersey and from parents who love us; we both struggled to have a child. We never met, but we have an incredible amount in common. I thought at some point we would meet in a room and just hug. But we lost her."
In a new interview with In Touch magazine, Wendy, 48, opens up about her drug use and what it took to get clean.
"I was a functioning addict. I'd work from 3 in the afternoon until 7 at night, get off and party until 7 in the morning -- then sleep until 2, go to the radio station and do it all over again," Wendy said.
"People around me knew, but nobody ever said anything to me. Nobody had the guts, which is shocking to me. I guess it was like watching a circus freak show."
Wendy credits meeting her husband around her 30th birthday and falling in love as one of the triggers that set her on the path to sobriety.
Article continues below advertisement
"The habit was not breaking me, so I could've gone on and on, except I was falling in love with this guy," Wendy said.
"I learned to just wean, wean, wean, and then finally stop. I didn't even have to go to rehab. I'm not bragging; it's just fact. I was never in the streets looking for a fix."
Wendy married Kevin Hunter in 1998 and the two have a 12-year-old son together, Kevin Hunter Jr.
RELATED STORIES: