Exclusive
Gabriel Aubry Wants Criminal Charges Brought Against Olivier Martinez For Brutal Thanksgiving Beat Down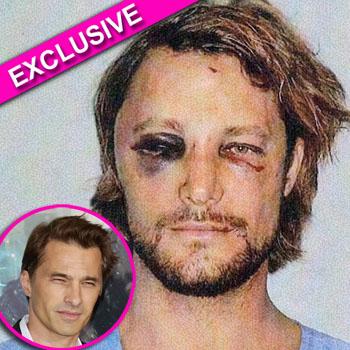 By Jen Heger - Radar Assistant Managing Editor
Halle Berry's baby daddy, Gabriel Aubry, will be filing a police report against her fiance, Oliver Martinez, after the French actor beat the Canadian model to a pulp on Thanksgiving, RadarOnline.com is exclusively reporting.
"Gabe wants criminal charges brought against Olivier for beating the living daylights out of him on Thanksgiving," a source close to the situation tells Radar. "Gabe can't believe that he was the one arrested when he says he did absolutely nothing to provoke the attack. If you look at the pictures of Gabe's hands after the fight, there isn't one scratch, nor did he suffer any wounds to his hands, as Olivier did. Gabe says he was rendered defenseless because he was knocked to the ground by Olivier's punches. Remember, Olivier's father was a former professional boxer and he has trained for years also."
Article continues below advertisement
As previously reported, Aubry was arrested for getting into a vicious fight with Martinez at Halle's house on Thanksgiving as he was dropping off their four year old daughter, Nahla.
According to an application for a restraining order against Martinez that Aubry filed, he repeatedly asked cops to secure security footage before it was destroyed, following the brutal fight he was involved in with Martinez.
RadarOnline.com was first to report on the existence of the footage, which was captured on Berry's security cameras at her property, and Aubry references it in his application for the TRO, which was granted on Monday.
According to the sworn declaration within his application, Gabriel took Nahla to her school play the day before Thanksgiving. Halle and Olivier also went and Aubry alleges that Olivier walked up to him and whispered in French in his ear: "I wish I could beat the s**t out of you right now. You're lucky we're in a school right now. We're going to take Nahla right now and you're not going to follow us."
Article continues below advertisement
The following day, Gabriel arrived at Halle's home with Nahla around 10 a.m. Gabriel states in his declaration that contrary to their usual arrangement, Olivier was the first to come out of the door – stating that normally he is met by a nanny. Gabriel then claims in his TRO application that Olivier said: "We need to talk."
Gabriel goes on to allege that he turned his back on Olivier and walked towards his car. Gabriel then claims in the court documents that Olivier jumped off the stairs and knocked him to the ground before brutally beating him.
Gabriel also claims in his sworn declaration that Olivier screamed that he has cost them $3 million in their custody battle. A judge recently determined that Berry wouldn't be allowed to move with Nahla to Paris with Martinez.
Gabriel then claims in the court documents that Olivier took his head in his hands and slammed it on the concrete driveway and raged that the family was going to move to Paris and Gabriel should follow too or Olivier would kill him.
Article continues below advertisement
Then, Gabriel claims in his sworn declaration, Olivier said, "We called the cops," and when they arrive, "you're going to tell them that you're the one who attacked me, or I'm going to kill you."
Martinez was also taken to the hospital after the fight, and suffered injuries to his hands. On Monday, nearly five days after the fight, Olivier was spotted wearing a brace on his hand.
RELATED STORIES:
Gabriel Aubry Granted Restraining Order Against Olivier Martinez