Exclusive
Gabriel Aubry Requesting Olivier Martinez Be Prohibited From Having Any Contact With Daughter Nahla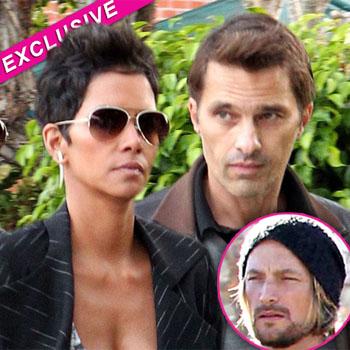 By Jen Heger - Radar Assistant Managing Editor
UPDATE: A judge has ruled that Gabriel Aubry will be allowed to resume visitation with Nahla, with unspecified precautions in place to protect her safety. Story developing…
***
Halle Berry's baby daddy, Gabriel Aubry, is headed to a Los Angeles courthouse Tuesday to ask a judge to formally re-instate his visitation with their four year old daughter, Nahla, and to request that the Academy award winning actresses' fiance, Olivier Martinez be prohibited from having any contact with the toddler, RadarOnline.com is exclusively reporting.
Article continues below advertisement
"Gabe has had enough, he has now twice been accused of criminal behavior resulting in his recent arrest after a fight with Olivier Martinez on Thanksgiving," a source close to the situation tells RadarOnline.com exclusively. "Gabe will ask the judge to prohibit Martinez from having any contact with Nahla. Gabe will also ask the judge to re-instate his visitation with Nahla after Halle obtained a protective order after Gabe's arrest which doesn't allow him to have any contact with his little girl.
Article continues below advertisement
Radar was first to report on the existence of the footage, which was captured on Berry's security cameras at her property, and Aubry references it in his application for a restraining order against Martinez, which was granted on Monday.
According to the sworn declaration within his TRO application, Gabriel took Nahla to her school play the day before Thanksgiving. Halle and Olivier also went and Aubry alleges that Olivier walked up to him and whispered in French in his ear: "I wish I could beat the s**t out of you right now. You're lucky we're in a school right now. We're going to take Nahla right now and you're not going to follow us."
The following day, Gabriel arrived at Halle's home with Nahla around 10 a.m. Gabriel states in his declaration that contrary to their usual arrangement, Olivier was the first to come out of the door – stating that normally he is met by a nanny. Gabriel then claims in his TRO application that Olivier said: "We need to talk."
Gabriel goes on to allege that he turned his back on Olivier and walked towards his car. Gabriel then claims in the court documents that Olivier jumped off the stairs and knocked him to the ground before brutally beating him. Gabriel also claims in his sworn declaration that Olivier screamed that he has cost them $3 million in their custody battle.
Article continues below advertisement
Gabriel then claims in the court documents that Olivier took his head in his hands and slammed it on the concrete driveway and raged that the family was going to move to Paris and Gabriel should follow too or Olivier would kill him.
Then, Gabriel claims in his sworn declaration, Olivier said, "We called the cops," and when they arrive, "you're going to tell them that you're the one who attacked me, or I'm going to kill you."
Also disturbing to Aubry was what his daughter Nahla said before the explosive fight, according to the court docs.
"I remember thinking that is was odd for Olivier to be there, as he is generally not present during custody transition. Nahla was in the backseat on the passenger side, and suddenly exclaimed, 'Olivier is here. I'm scared.' I recall thinking it was strange for Nahla to have said that and was concerned by it. I saw Miriam(nanny/houskeeper) then come outside towards my car, at which point Nahla became visibly upset and anxious, but I did not know why. I tried to reassure and calm Nahla and told her it was ok," Aubry says in his sworn declaration.
Article continues below advertisement
"Gabriel is going to fight like hell to make sure he can see his daughter as soon as possible. Gabe won't back down," the insider says.
Halle Berry is expected to attend the emergency custody hearing Tuesday and Aubry is being advised that he can't because of the emergency protective order prohibiting him from being within 100 feet of his ex.
Stay tuned to RadarOnline.com for developments on this story.