General David Petraeus Breaks His Silence On Sex Scandal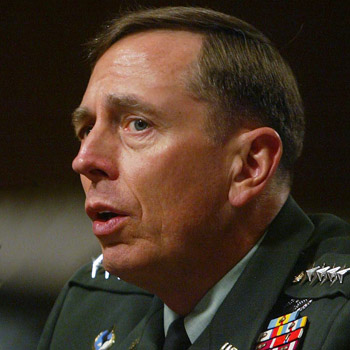 Disgraced U.S. Gen. David Petraeus broke his silence in a chat with HLN's Kyra Phillips Thursday, and the journalist recapped the chat in a phone interview with HLN's Morning Express Thursday to give a glimpse into the embattled leader's thoughts during the personal and professional crisis.
Petraeus, 60, quit as CIA director last week, citing his extramarital affair with Paula Broadwell, the 40-year-old beauty who wrote his biography.
Article continues below advertisement
Phillips said the main points she culled from the discussion was that Petraeus never passed classified information on to Paula Broadwell," and that his resignation had nothing to do with his reluctance to testify about September's attack Benghazi, Libya that left four Americans dead.
Phillips said Petraeus was contrite about the affair, so "he sought to do the honorable thing in response and that was to come forward" and admit to the infidelity.
"He was very clear that he screwed up terribly - it was all his fault - even that he felt fortunate to have a wife who is far better than he deserves," Phillips said. "Obviously, he's taking it really hard. He knows he made a big mistake. He does want to move forward making things work with his family.
"He doesn't want to throw 37 years out the window with his wife."
Phillips said the story won't be complete until Broadwell - whom she's heard "is an aggressive woman … who works her magic" - gives her statement on the situation.
Article continues below advertisement
"Not taking Petraeus off the hook at all, but there are two people, obviously, in this situation," Phillips said. "He is saying it's all his fault. But it's important to see that there is another person involved. And we hope to hear from her as well, and her side."
Petraeus insisted he never allowed his mistress Broadwell to see, or have access to, any top secret info, Phillips said, adding she fully believes him based on his pre-scandal history.
"As long as I have known him, he has never wavered on classified information, ever," Phillips said. "And to the best of my knowledge, you know, that has always been sacrosanct."
Phillips said Petraeus hasn't spoken with Broadwell "since the story broke," and was fully comfortable with his decision to step down from the CIA in the wake of the cheating scandal.
"It became very clear to me that he knew he was at fault," she said. "He could not maintain that position. And he never tried to convince his boss he should stay …
Article continues below advertisement