Miss America Hopeful Allyn Rose To Undergo Double Mastectomy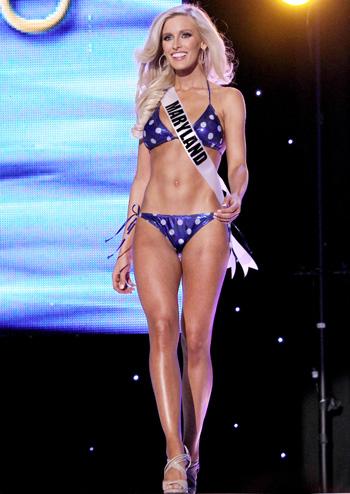 Miss America contestant Allyn Rose says she's planning to undergo a double mastectomy within the next two years because of a rare genetic condition in her family that causes breast cancer, the disease which took her mother's life eight years ago.
"The idea that I could wake up one day and not have the same body that I did the day before is very scary," Rose, 24, told People. "But I also realize my mom was diagnosed at 27. That's three years away from me.
Article continues below advertisement
"I'm not going to let my fear of losing this part of my femininity stop me from living."
Rose said the chromosomal disease that eventually took her mother from her "manifests in male children, but there have been studies that women who are the carriers of it have almost a 75 percent likely chance of contracting breast cancer -- it's a very strange change in our genetic code -- almost all of the women in my family have passed away from it."
Rose, a model/paralegal, said that at 24, the timing is right to take the bold precaution.
"My mom had her right breast removed at 27, but at 47 or 48, it came back in her left breast," the Washington, D.C. native recalled. "It was already stage three. She could have had that other breast removed, but I'm sure there was a part of her that thought she didn't want to give up this other part of herself.
Article continues below advertisement
"My dad said he begged her for years and years to get it removed, but she said no. It's ultimately the thing that killed her. I had to become my own mentor. I had to go pick out my prom dress by myself. I had to go to my high school graduation without my mom. She didn't see me go off to college or go on my first date or drive a car for the first time."
Rose said some medical experts, asked about the mastectomy, have been "wary because I don't have breast cancer and I am so young, but others have said it's a very smart move, especially for someone who is genetically predisposed."
Rose said that "breasts don't define your life" and she's making the choice of "life over beauty"
She said that after watching role models such as Robin Roberts and Giuliana Rancic face their diseases head on, she's prepared to walk the same line in her position as a Miss America hopeful.
"Title holders across the country get an opportunity to speak to their generation and have something they can advocate," she said. "Being in the industry and competing in the most iconic swimsuit competition in the world, I thought to myself, 'If I were to win and have this surgery a year from now, would I be a different Miss America because I lost my breast?' No."