Exclusive
Teen Cancer Sufferer & Honorary Face Of Cover Girl Undergoing Stem Cell Treatment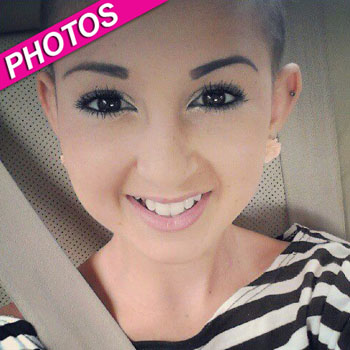 By Debbie Emery - RadarOnline.com Reporter
The 13-year-old who has won the hearts of countless strangers with her inspirational make-up videos that earned her the title of honorary face of Cover Girl was back in the hospital on Thursday getting more life-saving treatments.
"Currently Talia has been hospitalized for 18 days and will be getting her stem cells re-implanted," her spokesperson exclusively told RadarOnline.com. "She is focusing on her health."
Article continues below advertisement
As RadarOnline.com previously reported, Talia Joy Castellano, who is battling both leukemia and a brain tumor, has attracted more than 14 million viewers to her video blog and the cosmetics giant recently launched their new campaign and released the first image of the beautiful, brave teen.
On Thursday, the Facebook page dedicated to her recovery revealed that the Florida native had also just received another platelet transfusion.
"That will make 5 platelet transfusions and 2 blood transfusions this month alone. Talia is literally alive because of blood donors like you! Talia and other people need blood more than ever now. Please donate blood and be sure to hold up a sign so that we can post your picture donating blood on this page," asked the positive post.
With possibly only four months to live, Castellano gets torrents of support from her 55,000 followers who send uplifting comments and photos telling her to "Get well soon" and "You are my hero."
Article continues below advertisement
The teen first became obsessed with make-up when after losing her hair six years ago from the intense treatments aiming to cure her stage four neuroblastoma cancer, she started experimenting with colorful cosmetics instead of wearing wigs.
Her fascination with enhancing her facial features instead of her baldness led to a YouTube channel that is an Internet sensation. Once a week, after enduring punishing bouts of chemotherapy, radiotherapy, stem cell transplants and blood transfusions, Talia teaches her followers a range of fun and creative make-up techniques.
Talia was shown the Cover Girl campaign poster while appearing recently on Ellen and combined with the standing ovation she received, the brave teen's eyes welled up with tears.
Speaking on one of her videos, Talia said: "I don't like wigs, they're so, I dunno... When I have on a wig I feel, not fake, just not me.
"When I put on my make-up I feel like I can embrace those features that I really like about myself. I feel if someone's looking at me, they're looking at my make-up, not looking at my bald head.
Article continues below advertisement
"I am just trying to make young girls, young adults, adults, anyone, feel beautiful by using make-up."
Earlier this year Talia revealed the tragic news on her video blog that on top of her brain tumor, she has also been diagnosed with leukemia. She uploaded a post announcing that she now has "neuroblastoma and leukemia at the same time."
However, she vowed to continue her make-up lessons for "as long as she can" and said: "I just wanted to tell you guys because I don't want it to be a secret.