Giuliana Rancic Explains Cord Blood Banking: To Help Take Care Of Son's Future Heath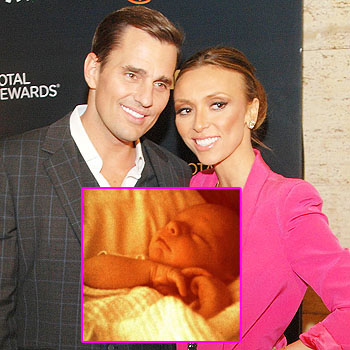 Celebrity news anchor Giuliana Rancic has stored her newborn's cord blood – in case her son suffers the same health problems she did.
Giuliana, who fronts the nightly E! News show, has been publicly plagued with fertility and health issues for years including a miscarriage and breast cancer but eventually became a mom at the end of August by a surrogate carrier.
Giuliana and her entrepreneur husband Bill, who won the first series of The Apprentice, said they decided to bank their baby Edward Duke's cord blood because of all the medical scares they went through and also to alert other new parents to the benefits.
Article continues below advertisement
A baby's umbilical cord blood can be stored in either a public or private bank and is kept in case it is needed in the future – to help treat blood or immune disorders and even genetic illnesses like cancer.
Giuliana and Bill started trying for a baby in 2009 then after they failed to conceive, started in vitro fertilization the following year.
She became pregnant but miscarried at nine weeks then not long after, discovered she had breast cancer.
But the new mom and dad, who star in their own show Guiliana and Bill, say they are thrilled with the arrival of Edward Duke and wrote about their decision to blood bank on their blog:
"Some parents might ask us why we banked. After our own health scares and all that we went through to finally get pregnant it was a no-brainer for us. We've always taken charge of our own health and wanted to do the same for our son even before he was born.
MORE ON:
hollywood happenings
Article continues below advertisement
"Like all parents, we want a healthy future for our child, but no one can predict the future. The value of cord blood stem cells is something we want every parent to be informed about.
"Though we hope we'll never need to use them, Edward Duke's stem cells will be available if we should ever need them."
The Rancics have also launched the Healthy Futures Campaign, a charity devoted to informing parents about the options available with a baby's umbilical cord.