Giuliana & Bill Rancic Considering Adoption, Surrogacy In Desire To Have Children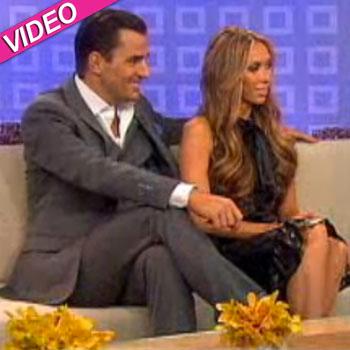 Now that E! personality Giuliana Rancic has the upper hand in her battle with breast cancer, she and husband Bill are back to focusing on a goal they set before she underwent a double mastectomy in December: having a baby.
"We are definitely having to explore other options," the red carpet staple, flanked by her Apprentice winner hubby, said on The Today Show Monday. "We absolutely want a child. As far as getting pregnant myself, with the medication I'm starting... it's probably not going to happen any time soon."
Article continues below advertisement
Giuliana said that they're "definitely looking at other options" and that she hopes to deliver "some good news soon."
"Possibly adoption, surrogacy: listen, at the end of the day, whether you have a baby naturally, adoption, surrogacy -- it's your baby. You're going to love that baby and that's all that matters."
Said Bill: "2012 is the year of the Rancics!"
Giuliana told the Today Show in December she decided to go forward with the double mastectomy over other procedures because "all it came down to was choosing to live and not looking over my shoulder the rest of my life."
On Monday, she said the bout with illness has "brought she and Bill so much closer together. It's actually helped us find the humor in everything, because when you go through something this tough, you have to, at some point, laugh and get back to your normal life.
"And that's Bill helped me do ... It's really reinvigorated our relationship in many ways, and we're closer than ever -- that's for sure."
Article continues below advertisement
Bill added the life experience of supporting his wife through such a harrowing ordeal "makes the little things not seem so important," adding he and Giuliana plan to renew their vows this summer.
"Big party — celebration of life," he said.
Season five of Giuliana & Bill premieres Tuesday at 8/7c on The Style Network.
Visit msnbc.com for breaking news, world news, and news about the economy
RELATED STORIES: