Exclusive
It Was Self Defense! 'Bullied' Adriana DeMoura Justifies Why She Hit Joanna Krupa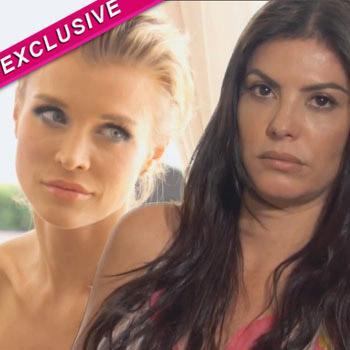 Article continues below advertisement
"Joanna deeply insulted me, cussed me out, bullied me and put her finger all over my face. I was physically attacked! I was verbally attacked! She was cornering me. I had to have self defense."
Adriana is the latest housewife to join the growing organization Wine By Wives and said that it was an obvious choice for her to be involved.
"I was drawn to the project because I'm a big wine lover in the right amount of course! It really appealed to me how it would connect my knowledge of wine to artists."
The night of the infamous fight she wasn't drinking wine however, and said it might have been the tequila shots that fueled the fight. Oops!
As RadarOnline.com previously reported, the fight erupted between the two women but Adriana says a lot happened that wasn't show on the show.
"Joanna called me, right before I was leaving and she was chasing me down the hallway, she calls me a f**king hooker. She was calling me a whore so I guess I can call her a whore too. In love and war everything is fair. If you attack me, I will attack back."
Article continues below advertisement
Adriana says that despite the reports, she is not envious of Joanna.
"I don't have to be jealous of her. I am a pretty brunette, I have a good body. She's a pretty blonde. And I'm a pretty brunette. She has a pretty body, I have a pretty body," she says.
"She has her modeling career. I have my art, my song, my movie, so I could tell her, listen you're jealous of me. I'm about to release my single and you're jealous of me. For the first time in housewives history we have a housewife that has a theme song. And it's a good song. She's jealous of me because of my song. I am definitely not jealous of her. I have no reason to."