Exclusive
Mountains Of Filth And Rotting Food, Inside The Secret Lives Of Hoarders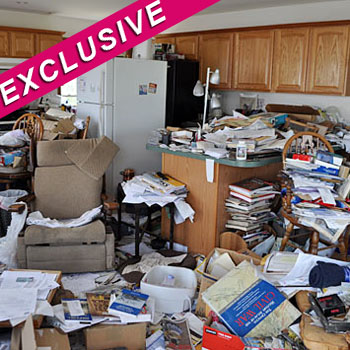 By Debbie Emery - RadarOnline.com Reporter
As the Las Vegas authorities continue to sift through the mountains of trash, rotting food and dead cats in the house of compulsive hoarder, Kenneth Epstein, RadarOnline.com takes an in-depth look into the troubled mindset of people who just can't throw anything away.
"Many people use hoarding as a coping mechanism. They get a high from acquiring belongings and then the fear of discarding something that they might need in the future causes them not to want to get rid of it," explained Dr. Becky Beaton, psychologist and clinical expert on TLC's Hoarding: Buried Alive tells RadarOnline.com in an exclusive interview.
Article continues below advertisement
Like many aspects of our personalities – good or bad – hoarding is often hereditary, and a shocking 84 percent of sufferers have at least one relative who hoards.
"There may be a genetic component that is handed down from generation to generation," said Dr. Beaton. "It is also learned behavior so they may have learned it from a family member. We don't know if it is nature or nurture but it may be a combination of each."
Despite often being ankle-deep in rubbish, old newspapers and take away containers, and choking on the smell of degradation, many sufferers don't realize they have a problem until family members perform an intervention, and their need to keep a strong grip on everything in their life is often caused by a traumatic personal experience, explained Dr. Beaton.
"People who hoard have about 20 percent more trauma than a regular person, especially regarding loss either of actual people in their lives, possessions taken away from them, or the loss of everything through foreclosure on a home," she revealed. "It can also be loss of a primary relationship so they turn to things instead of people because people can leave them.
Article continues below advertisement
"Usually there is major depression that goes along with it and many are reclusive or suffer from anxiety disorders," she added.
Epstein, 55, was said to be mourning the death of his mother in 2010, which sparked his hoarding.
When it comes to treating the condition, experts have to treat both the desire to hoard and prevent them from repeating their behavior. "You have to teach them not to acquire things, then you have to help them with the anxiety of letting go, then you also need to find out if they need ongoing therapy and medication," explained Dr. Beaton.
Out of 28 episodes that she has filmed for Hoarding: Buried Alive, Dr. Beaton has achieved successful outcomes from 25 of them, but revealed that like any disorder, there is a high risk of falling back into bad habits.
"You have to expect relapse and then when they do, get back on the wagon again," she said.
As would be expected for people living in germs and dirt, there are also a lot of health problems connected with hoarding due to the literally toxic environment.
Article continues below advertisement
"They don't eat very well because they are not storing food properly, they have poor nutrition, respiratory issues, very sedentary, have orthopedic issues, are often diabetic or overweight."
The huge success of TLC's show proves the public's fascination with hoarding, and Dr. Beaton revealed that it taps into our natural instinct to want to save things for fear of losing them.
"Most people know someone who hoards so it helps them understand them," she explained, plus "they see a little of themselves in there and never want to get that bad."