Keeping His Eyes & Mouth Wide Shut? Tom Cruise Barely Mentions Nicole Kidman In Interview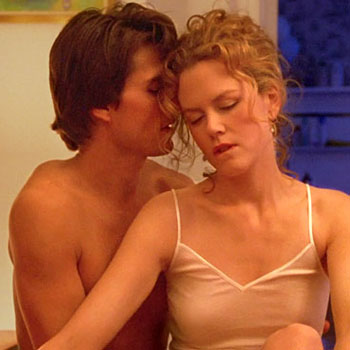 By Leah Ornstein - RadarOnline.com Features Editor
He may have been married to Nicole Kidman for a decade, raised two children with her and co-stared with her in one of the most iconic movies of his career, but Tom Cruise refuses to give his former wife much talk time.
In a new interview with Interview magazine about famed director Stanley Kubrick and his experience working with the legend for two years on the controversial film Eyes Wide Shut, which featured several racy sex scenes between him and his then-wife, Cruise barely mentions the Australian actress other than taking credit for her casting in the film, and RadarOnline.com has the details.
Article continues below advertisement
Throughout the extensive interview, in honor of the new Kubrick exhibition at the Los Angeles Country Museum of Art, Cruise reminisces about his experiences and friendship with the legendary director and the process of shooting the movie, only mentioning Kidman, whom he was married to at the time, twice - and with no reference to their matrimonial status.
"We talked about the female lead and I said, 'Listen, I don't know if you've seen Nicole Kidman's work, but you've really got to look into her. She's a great actress.' And we kind of talked about the wife, and Nicole playing that character," Cruise explains.
The only other time he mentions Kidman's name, is when discussing a screening of the final cut of the film.
Kidman, on the contrary, had no qualms about opening up to The Hollywood Reporter about her marriage to Cruise and the complications of filming the racy sex scenes, in an alternative story on the director.
"People thought that making the film was the beginning of the end of my marriage - but I don't really think it was," Kidman explains about the two-year production with Kubrick. "Tom and I were close then, and it was very much the three of us."
Article continues below advertisement