Nicole Kidman Talks 'Uncomfortable' Sex Scenes With Tom Cruise, Had To Be 'Coaxed' Into Sexuality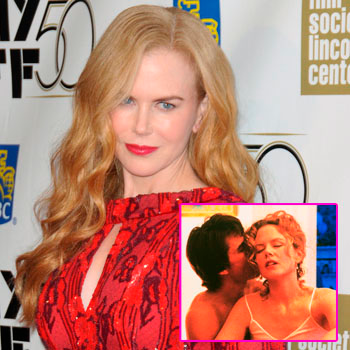 You would think it would be easier to film sex scenes with your husband than a relative stranger, but not so for Nicole Kidman!
More than a decade after starring in Eyes Wide Shut with her then-husband Tom Cruise, Kidman is opening up about the sexually provocative experience.
In a new story she penned for The Hollywood Reporter, the actress shares new details about working with legendary director Stanley Kubrick and her ex on the controversial film and what effect it had on the demise of the couple's marriage, and RadarOnline.com has the details.
Article continues below advertisement
"People thought that making the film was the beginning of the end of my marriage - but I don't really think it was," Kim explains about the two-year production with Kubrick. "Tom and I were close then, and it was very much the three of us."
"On screen, the husband and wife are at odds, and Stanley wanted to use our marriage as a supposed reality. That was Stanley: He used the movie as provocation, pretending it was our sex life.
Which we weren't oblivious to, but obviously it wasn't us. We both decided to dedicate ourselves to a great filmmaker and artist."
Kidman, who confesses she wasn't completely comfortable with intense sex scenes with Cruise, has the director to thank for making her feel at ease.
"Stanley had to coax me into some of the sexuality in the film in the beginning, but we shot things that were a lot more extreme that didn't end up in the movie. I did feel safe - I never felt it was exploitive or unintelligent. He was very different with women than he was with men. He has daughters, so he was very paternal with me."
Article continues below advertisement