Shakira Keeps Chip-per After Tooth Mishap, Closes Down Filming On The Voice!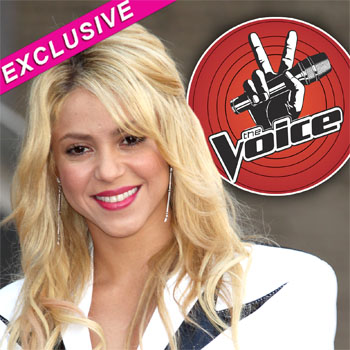 She can sing, dance and she knows how to avoid making a mountain out of a "molar"-hill. That's what a source is exclusively telling RadarOnline.com about Shakira - one of the two new celebrity coaches on The Voice.
The Hips Don't Lie superstar completely shut down filming of the singing competition Monday after she chipped her tooth!
But a show insider says the 35-year-old refused to act like a diva and actually wanted to carry on filming despite the injury!
Article continues below advertisement
The source says: "Shakira chipped her tooth, and production had to be completely shut down for the day.
"They weren't even close to finishing filming at that point, but everything got stopped and the entire cast and crew were sent home.
"She was eating a cookie and bit into it and part of her tooth just came out. She made this face like: 'What is this in my mouth?'
"And sure enough, it was one of her molars!"
But the pregnant singer apparently wowed her co-workers with her plucky attitude. And they've already started favorably comparing her to Christina Aguilera who is taking a break from the show to focus on her music career.
Shakira will be filling in for her for the fourth season, which will air in the spring while Usher will be standing in for Cee Lo Green who is also taking a break.
"Shakira wanted to keep shooting and just move on, but producers wouldn't allow it," the source says. "She's so easygoing and relaxed.
Article continues below advertisement
"She really didn't care or think it was that big of a deal. She was cracking jokes about it! That's why everyone on the crew loves her.
"This is not what would have happened if Christina Aguilera was still here. Shakira is so not a diva! Everyone was braced for mayhem after dealing with Christina's diva antics, but this is a totally different pop star."
But The Voice execs didn't want to take a chance with their new star.
The source says: "The producers were really worried for a while. They called a dentist to see if it would be possible to have him come to the set, but in the end Shakira's team decided the right course of action was to get her to her dentist's office immediately.
"She got it fixed the same day and said she wasn't hurting in any way. She kept telling everyone: 'I'm fine. It's not a big deal.'
"Of course everyone was really happy to go home early too. That didn't hurt at all."