The Voice: A Star Is Born, And Her Name Is Amanda Brown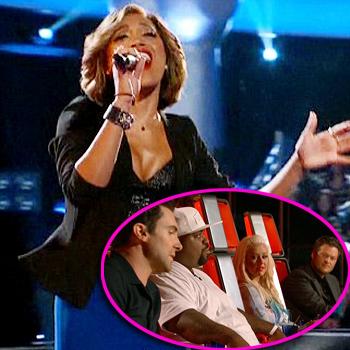 Even though she didn't win the Battle Rounds on The Voice Monday, Amanda Brown emerged as the clear victor on the hit NBC singing competition, as judges Adam Levine, Christina Aguilera, and Blake Shelton vigorously fought for her to be on their team, thanks to the show's new 'steal' gimmick, after Amanda's mentor Cee Lo Green didn't choose her as the winner.
Amanda - reminiscent of a young Whitney Houston - wowed the judges during the Battle Rounds singing a rousing duet of Mariah Carey's Vision of Love with fellow contestant, gospel prodigy Trevin Hunte. While judge Cee Lo ultimately choose Hunte as the winner, Amanda was a huge beneficiary of the show's new 'steal' option, enabling the other judges to add a contestant who would have otherwise been eliminated.
Article continues below advertisement
"I should not have paired y'all together," Cee Lo conceded. "I'm mad … I don't want to lose either one of you!"
Amanda's performance also impressed judge Christina Aguilera, who called the joint effort "hands down, the best performance we've had in the Battle Rounds so far!"
The Voice Torn Apart By Adam Levine & Christina Aguilera's Explosive Brawl
Blake Shelton told her, "You're the total package. I would be honored to be a part of that journey with you."
Now holding court with the judges, Amanda - going with her gut, she claimed - picked Adam Levine as her coach.
"I hold very few singers in high regard. There's Mariah, Christina, Aretha... I believe you're one of them. I really do. I don't need to teach you to sing," Adam told his prized new prospect.
The singer, on her Twitter page Tuesday, was overwhelmed (in a good way) by the attention she was receiving for her breakout performance.
Article continues below advertisement
"Seriously, the twitter love is amazing!!!! I love you guys!!!!!! #TheVoice #TeamAmandaBrown #Mandylings #MANDAFAN :-)" she wrote.
After her name became a trending topic, she tweeted: "WHAT??!!!!! Thank you universe for this amazing blessing!!!!!!"
Music stars Billie Joe Armstrong, Rob Thomas, Michael Bublé and Mary J. Blige served as guest advisers on Monday's episode.
The Voice returns Tuesday night at 8/7c on NBC.